Maybe I will throw in the ladies' perspective here because it seems to be uh sorely
lacking
in this thread.
Some girls don't mind open dating (which may or may not include "benefits")
as long as you're straightforward about it
. It depends a lot on the girl and what kinds of social groups you run in. In some circles, it is normal and expected during the first couple dates that you're also seeing other people. (By the third date I'd probably knock it off though unless you have an explicit understanding about it with all of the women you're involved with. Third date seems to be a pretty common landmark for when things are starting to get "serious.")
However: Girls don't like feeling like they're in some kind of reality show and you're gradually voting them off the island until there's only one left. If you barely know these girls and can't say which (if any) you're interested in dating, maybe you should hold off until you have a particular idea in mind of which ladies you dig. You can be friends, sure, but most ladies don't want their male friends to (not-so-)secretly want to bone them. It can be flattering, but it can also be intensely creepy. Most of the time it is creepy. Don't be creepy.
Most girls also don't like being judged based heavily or solely on appearance. It's demeaning to be thought of as some dude's potential arm jewelry. It's even more demeaning to be thought of that way by someone transparently feigning interest in things other than your tits. That calculating shit is both obvious and unattractive. If you look like Brad Pitt or just ooze charm or something, you might be able to get away with coming across as a douche, but otherwise, don't count on it.
This has been the Ladies' Corner, addressing the issues that affect
you
, gentle reader. We now return you to your regularly scheduled thread.
_________________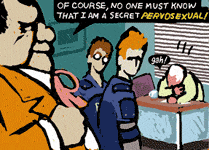 "Under no circumstances should anyone encourage the ordinary person to be funny."
--Bob Mackey