Soupdragon wrote:
We have a problem.
Although she could be entered for shows, she has a defect on her left hip-joint. She's ok, but not "perfect". Which is a bit of a shame. All her siblings passed the check, ok.
We really wanted her to be able to cope with agility training, but that's out of the question due to the way the joint looks. So she's a family dog, and is an absolute joy*.
*Having dogs has its ups and downs.
Luckily the bad bits are easily forgotten.
It's unfortunate how many dogs are prone to hip problems these days. Seems like even about 20 years ago, it was a problem only prevalent in really large dogs like German shepherds (my family had a couple of those, too, and both developed serious hip dysplasia in their old age). I guess it's a problem that trickles up from backyard breeders and hits even the responsible ones now.
I'm kind of dreading my dog's old age since I have no idea of her actual ancestry (she's a rescue--from her appearance we think she's a purebred pit bull and not a mix, but it's impossible to know for sure). It'll be a while before she's old enough for inherited problems to really manifest, but pits are a breed prone to joint issues. One of my acquaintances spent some huge sum of money to get her pit's ankles surgically repaired when both of them went out on him. (Needless to say I'm saving up in the event of something like this happening to Sadie.)
Oh, I forgot to mention my animals' names! Sadie's the black pit bull, Maisy's the white-and-gray cat, and Betamax is the black cat. Sadie is convinced that the cats are her puppies and must be cleaned constantly. The cats, alarmingly, tolerate this.
I also have a white rat named Tiamat who hates me. I used to have another white rat who actually liked me, Tiamat's sister, named Chloe's Eyebrows, but last weekend she died of mammary cancer. I knew about the cancer from when I took her to the vet to get the lump looked at, so I was expecting the inevitable loss and monitoring her quality of life in case she'd need to be euthanized, but it's still always a kick in the gut to find them dead. (I've had a few rats so I kind of get the routine, but I don't
like
the routine.)
Ugh, I just gave you all depression here, I'm sorry. More cute animals?
BFF
Betamax when he was about 6 months old. Don't be fooled by the cute look--he is actually a tiny Satan.
This is the angriest look an animal has ever given me. She had to wear this thing for a week.
Chloe's Eyebrows and Tiamat when they were babies. Chloe's Eyebrows is the one saying HELLO and Tiamat is the one saying HOLY GOD WHAT ARE YOU GET AWAY
_________________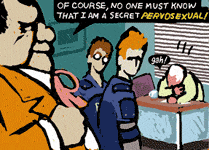 "Under no circumstances should anyone encourage the ordinary person to be funny."
--Bob Mackey