~~Character profiles~~
Profiles will be posted in this section, please PM all profiles to me to be put up here.
Hero:
Raptured Night wrote:
Username: Raptured Night
Character name: Adrian Veidt
Age: 37
Alias: Ozymandias
Gender: Male
Sexual preference: Really that is of very little significance in the sum of things, wouldn't you agree?
Special abilities:
∅ Believed to be "the world's smartest man."
∅ Ambitious
∅ Master strategist
∅ Top physical human capability: i.e. able to mentally calculate physical reaction times, anticipate the pull of a trigger, and reflexively catch a bullet, superb fighter and martial artist, an almost superhuman unarmed combatant, and world-class athlete who does acrobatic performances in aid of charity events.
Appearance:
Character alignment: Hero, I am above all else a philanthropist.
Raptured Night wrote:
Username: Raptured Night
Character name: Daniel Dreiburg
Age: 31
Alias: Night Owl II
Gender: Male
Sexual preference: Costumed *ahem* Women…just women…
Special abilities: Daniel Dreiberg relie[s] more upon technical wizardry and tools than toughness, which set[s] him apart from his fellow costumed adventurers. Still, he has demonstrated more than adequate skills when defending himself. All of his gadgets and costumes are based on an owl theme. He uses an owl-shaped flying vehicle nicknamed the "Owlship" or "Archie" (after Archimedes, Merlin's pet owl in The Sword in the Stone), equipped with a variety of offensive and defensive devices (Copyright: Watchmen Wiki, 2010).
Appearance: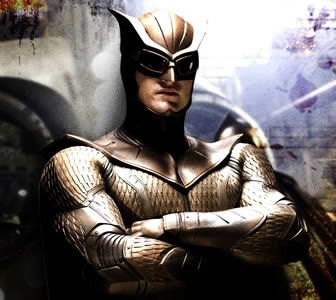 Character alignment: Hero
NiteOwl wrote:
Username: NiteOwl

Character name: The Raccoon

Age:19-20?

Alias: Johnny Blake

Gender: male

Sexual preference: women

Character bio: A neglected byproduct of Eddie Blake's youthful indescretions, Johnny has vowed to himself and his deceased mother to be a better hero that his father could ever be. To protect the innocent, to punish the injust. His mother was a weathy widow who left her fortune to Johnny, however he has only taken enough to equip himself adequately
for fighting crime and given the rest to charity. Disturbed and determined Johnny often finds himself wandering the city at night seeking to dispence justice, however the nocturnal life in the city is alluring to Johnny. He becomes conflicted between holding up his high standards and morals or sinking into the filth and becoming one of the scum villains he swore to punish.

Special abilities:
He's trained relentlessly to give himself hightened agility and strength. He was trained since a boy in dozens of martial arts styles and is second to none in marksmanship with guns and throwing knives.

Appearance:
Johnny is clean shaven with a messy unruly haircut that often allows his thick black hair to fall dramatically into his face. His light blue eyes are stunning and captivating. He is very muscular and underneath his armor is a sickly array of bruises and cuts from his crime fighting escapades. He is outfitted with metal armor around his shoulders, chest and abdomen. The metal pieces are screwed into a leather underarmor which is black and clipped onto a metal belt held together by thick black leather straps. Around his left forearm he wears a large metal gauntlet that opens up to store knives, ammunition or other small concealable weapons. On his right arm is the leather underarmor which seamlessly stretches out into a leather glove.
Johnny is always sporting bandoliers full of ammo and various guns of all different calibers, and a haunting domino mask around his eyes. His look is menacing yet suprisingly low tech aside from a few secret compartments in his metal armor.

Character alignment: Hero
Dampylle wrote:
Character list: Heroes
Username: Dampylle
Character name: Rorschach
Age: 36 (Date of Birth 03/21/1940)
Alias: Walter Joseph Kovacs
Faceless
Terror of the Underworld
Gender: Male
Sexual preference: What does it matter? Fine then Women... bunch of whores
Special abilities: A master of improvised weapons and tactical use of his surroundings Rorschach is never defenseless or unarmed. He is also heavily versed in street combat and boxing and some of his antics hint at a certain skill as a gymnast. Rorschach is also quite capable at picking locks and slipping into various locations. He is a self proclaimed investigator and was once described by his former partner as "tactically brilliant". Beyond these facts Rorschach often seems to be stronger or more resilient than what could be termed 'normal'.
Appearance: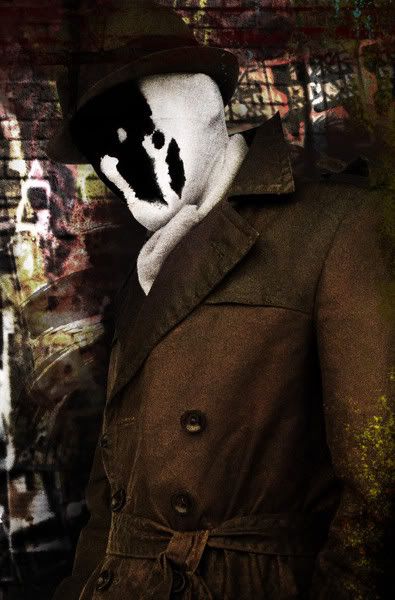 Character alignment: Hero
Villain:
kikora21 wrote:
Username: Kikora21
Character name: Dhiren Jaeger
Age: 37
Alias: None
Gender: Male
Sexual preference: Women
Character bio:
Both Dhiren's parents were powerful figures among the crime lords in the underground. Years earlier, during prohibition, they gained their fortune smuggling alcohol and other narcotics into the country, to sell for a high price to a waiting public. They raised Dhiren to look down on the people in the organization as tools, and brought him up solely to be the heir to the vast organization. At twenty seven it happened. A rival organization looking to seize control of their operation successfully assassinated Dhiren's father, and the young man was more than ready to assume control of the lucrative business.
Special abilities: Dhiren is a trained combat fighter, and more than competent with many forms of weapons. Whatever skills he lacks he more than makes up for in wealth.
Appearance: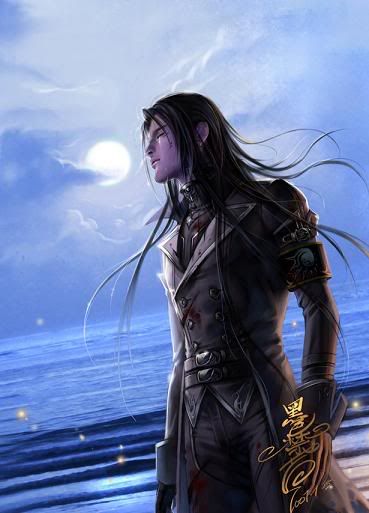 Character alignment: Villain
Character type: Original
Demio wrote:
Username: Demio
Character name: Ernestine Friedmann
Age: 19
Alias: Erna
Gender: Female
Sexual preference: Asexual
Character bio:
Ernestine grew on the streets, not knowing any form of paternal love nor the warmth of a place to call home. Stealing food, running for her life, sleeping in the alleys; each day worse than the previous one. She witnessed on first hand how the criminals ruled the streets, and how the heroes were more scarce.
She would eventually be picked up by a man that gave her food and a bed, but as time passed on, she would end up doing forced tasks she would consider a common thing in the vast urban jungle: delivering strange-looking packages to remote locations in the city, selling 'candies' towards other children - she had become nothing else but the puppet of a criminal.
Every time she failed such tasks, the man would chain her to the basement and beat her as if she was a beast - even worse, she wouldn't even be fed if she defended herself against the man. In her mind she created an all mighty sword to protect her from those harsh times, who whispered to her from encouraging words when she most needed, to words of hatred when she needed to discharge her rage.
One night an explosion managed to set her free, damaging the wall that contained the chain. She attributed it to the blade manifestating and setting her free; but in reality, the man had failed to control his homemade drug lab, resulting in his death and her freedom.
Now she wanders the streets, just as she did since little. The only difference, she doesn't runs away from those that cause her trouble.
Special abilities: Above-average parkour skills and skills involving her chain.
Appearance: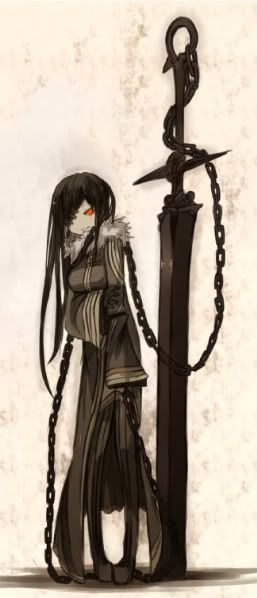 Character alignment: Villian
Character type: Original
Dampylle wrote:

Character list: Villains

Username: Dampylle

Character name: Alexander Drake

Age: 28

Alias: Omega

Gender: Male

Sexual preference: Women

Character bio: Alexander was to say the very least a child prodigy which would have been well and good if he had not also been born to a wealthy family that was far to busy to be bothered with what they termed a defective child. You see the muscles in Alexanders legs were rather lacking and it was impossible for him to get around without at least a pair of crutches or a wheel chair. This lead to a childhood of neglect shaping a truly brilliant mind. As he grew these would be the things that defined him as he grew ever more brilliant and ever more isolated and alone. He found that with his mind it was a simple matter to manipulate those around him and he became quite proficient at it even as he sped through his schooling at an alarming pace. Before long he was a double PHD with more certificates on the way and thanks to some tragic events the sole heir to his family fortune. This is when he believes his life truly began as he became a well respected socialite to the public eye and a force to be reckoned with in the criminal world though he always operated unseen from the shadows through third parties... at least until be found a way to walk for the first time. Alex designed a suit of armor that was the stuff of science fiction and with it became one of the most feared figures among criminals and masks alike... he was Omega. No one ever suspected that the smiling crippled socialite was the dreadful armored fiend Omega... that this frail yet brilliant man was the criminal mastermind who seemed to be an unstoppable force on par with the famous Dr. Manhattan.

Special abilities: As a man Alex possesses a truly brilliant mind both in terms of the sciences, theoretical sciences, and tactics. He has shaped his life by manipulating and controlling the chain of events and the people around him. As Omega his power is the stuff of nightmares, his armor designed to absorb and channel ambient forms of radiation to any number of functions including strength, protection, and weapons... and worst of all, due to his brilliance that armor is always evolving.

Appearance: Aside from the thin appearance of his legs Alex is actually quite well build and attractive. It is almost as if to compensate for his frailty he worked hard to sculpt the rest of his body as well as to maintain his appearance and present the sort of charm that his family had always expected. He favors stylish suits and his wheelchair is a study in extravagance featuring lavish trim and rare woods. As Omega he is a study in contrasts, His armor crafted in all blacks and silvers and bearing the Greek symbol for Omega upon his chest and broad armored shoulder plates with armored boots and gauntlets. His helm has no eyes per say but rather a slit that seems to glow with the energy that powers his armor. Overall it is an image from film or darkest nightmare made real and has ensured that Omega is a menace that is recognizes on sight should any interfere with his schemes.

Character alignment: Villain

Unaligned:
DoomsdayClock wrote:
Username: DoomsdayClock

Character name: Argus Silva

Age: 22

Alias: None

Gender: Male

Sexual preference: women

Character bio: Argus always wanted to be on the football team back in high school, but he just wasn't athletic enough. He took to writing for the school newspaper, but his interests turned to photo journalism when he realized he wasn't that good a writer. He started freelancing for local newspapers and eventually was awarded a full scholarship to Parsons The New School for Design where he is now pursuing his degree. Now, living in the big city, he has become obsessed with trying to get photographs of any masked vigilantes or masked villains still active on the streets of New York. He spends most of his nights in alleyways and subway stations hoping to get a shot of Rorschach in action or any other vigilante who defies the Keane Act. He figures by the time he graduates he may have enough photos for a book, and could end up being one of the youngest photographers to win a Pulitzer.

Special abilities: Just an innate "sixth sense" for where the "action" is.

Appearance: 5' 8", 138 lbs., brown hair, brown eyes

Character alignment: Citizen

Character type: Original
Smutty wrote:
Username: Smutty
Character name: Ben Urich
Age: 32
Gender: Male
Sexual preference: women
Character bio: Urich works as a journalist for a New York City newspaper, and regularly has secret meetings with rorschach, in which they trade information about the current crimewave of masked villains
Special abilities: Chain-smoking, writing investigative reports, charm.
Appearance:
http://i300.photobucket.com/albums/nn10 ... wikijp.jpg
Character alignment: Citizen/Hero
Character type: Existing
Raptured Night wrote:
Username: Raptured Night
Character name: Cassidy O'Donnell
Age: 30
Alias: N/A
Gender: Female
Sexual preference: Heterosexual
Character bio: Cassidy O'Donnell was born in Madison County North Carolina, during the year of 1946. The only child of Diana and Hugh O'Donnell, Cassidy O'Donnell was a precocious child with an insatiable sense of curiosity that would later manifest itself most noticeably through her constant travels in study abroad programs as a student, and also later as a professor herself. The early years of her life were marked by the beginning developments of the eccentricities which would follow her on into adulthood; Cassidy was "different," a word almost obscene to the residents of her hometown, yet also apt in describing the girl who would become the young woman, who would become the grown woman, who so often seemed to watch the world with the distance of spectator, rather than a participant.
At the age of twelve Cassidy's mother died (reported to have drowned after falling asleep in the bathtub), and Cassidy was left to the sole care of her father. However, at the age of 18 she graduated from high-school and left Madison County to attend a University under a scholarship, and has yet to return. During her third year of college Cassidy enrolled and was accepted for her first study abroad program in Brazil, and would continue to demonstrate a love for travel thereafter. At the age of 30, Cassidy has relocated to teach as a fairly "new and still inexperienced" professor of English Literature in New York.
Special abilities: Capoeira and a blend of a few fighting styles learned during her travels abroad.
Appearance:
Character alignment: Citizen
Character type: Original
Jester wrote:
Username: Jester

Character name: Sophie Brooks

Age: 22

Alias: None

Gender: Female

Sexual preference: Men

Character bio: Sophie Brooks has lived in NYC all her life, specifically on the edge of Brooklyn, just across he river from Manhattan. Is a college graduate of NYC University, having become a nurse at a local hospital. Her father was a prominate neurosurgeon before his death and her mother is a lawyer. She lives in a brownstone, inherited from her father.

Sophie is a quiet, nice woman with a good bedside manor, she's empathetic. (Important for being a good nurse, in her opinion.) She likes musicals and reading, with a somewhat bookish nature. However due to this she is bad at confritation, often poor at standing up for herself and what she belives in. Also, living a privliged life, she can take many things for granted and is a bit spoiled. She can't cook much and she's bad at singing, but she's got a talent for learning.


Special abilities: basic medical knowlege. (Apply stitches, giving shots, knowing what medicines do what, reading vitals, est.)

Appearance: Short (5'2") with a slim build. Mid-length light brown hair, lare gray eyes, and a narrow, pale face. Despite being twenty-two she looks younger and people ofen don't believe her when she tells them she's twenty.

Character alignment: Citizen
kikora21 wrote:
Username: Kikora21
Character name: Cassie Daniel
Age: 15
Alias: ((If any)) Teyha Lockra
Gender: Female
Sexual preference: Men ((Not sexually active.))
Character bio: Cassie was the victim of regular abuse at the hands of her immediate family for years, growing only more violent and less tolerable as time passed. Each time she was hurt the blame would fall onto her and despite her attempts to reach out for help no one would come to her aid. Those who were said to serve and protect pushed the young girl to the side.
As stress built it affected Cassie more and more, and she withdrew into herself. At fifteen the tension snapped, and driven by adrenaline she fled her home. She ran north to New York, where one more face in the crowd wouldn't be noticed. Her impromptu disguise the cropped and darkened hair and her new name 'Teyha Lockra'.
Special abilities: Knowledge of medicine and medical practices. Teyha keeps a few medical journals in her backpack at all times that she reads through quite often. Many times her odd jobs in the city consist of putting her knowledge to use by those who can't afford trained physicians.
Appearance: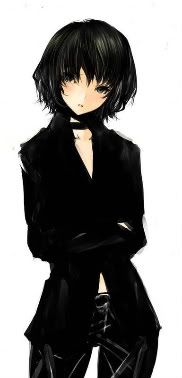 Character alignment: Good Citizen
Character type: Original